Summit High School
Class Of 1964
In Memory
Mona Malbon (Hoynowski)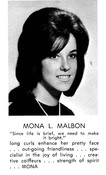 Mona L. Hoynowski, 54 of Stirling died Sunday, Sept. 16, 2001, at Overlook Hospital, Summit. A Mass will be offered at St. Vincent De Paul Roman Catholic Church in Stirling this morning, Se[t. 19, at 9:30 am. Arangements are by Valley Memorial Funeral Home, Gilette.
Born in New York, Mrs. Hoynowski had lived in Stirling for 24 years.
She was assistant office manager for the Pediatric Orthopedic Office at Overlook Hospital in Summit for 20 years, and was not retired at the time of her death.
Surviving are her husband of 24 years, Matthew J. Hoynowski, son Jason Hoynowski of Stirling and daughters Ronna Cardone of New Hampshire and Jennifer Cardone of Summit.